2018 Girls Leadership Soccer Academy Series

July 13, 2018 - July 14, 2018
OVERVIEW
The Blue Ridge Player's Academy Girl's Leadership Soccer Academy Series at the Virginia Military Institute is for rising high school age soccer players who want to experience playing soccer at the next level. Camp training sessions are conducted by the VMI Women's Soccer coaching staff and players also have access to the unique environment that the Virginia Military Institute has to offer. Through the close interaction with the coaching staff and training directly with current players from the VMI Women's Soccer program, campers gain a realistic impression of what it takes to compete at the next level. Players will also leave with a solid understanding of the high standards and expectations of being a student-athlete at the college level and will be provided with many valuable tools to utilize in their college decision process and overall growth as a soccer player. This is no ordinary prospect camp!
OUR TRAINING MODEL
Players will have the opportunity to train the VMI Women's Soccer way, with a focus on developing the complete player for the modern game of soccer, along with an emphasis on cultivating leaders of character. By working with the VMI coaching staff players will be challenged to GO BEYOND ORDINARY in stretching themselves in all areas on and off the field. Players will have access to the VMI obstacle courses and team building equipment which will be utilized as one of the ways to highlight the characteristics valued in the VMI soccer program such as: team above self mentality, resiliency, embracing adversity, courage, honor, leadership and being a positive contributor in any and all situations. This unique environment provides players with a valuable soccer camp experience unlike any other.
TENTATIVE SCHEDULE:
Session 1
1:00p.m. Check-in
1:15p.m. Goal Setting
1:45p.m. Training Session I
3:45p.m. Leadership/Mental Toughness Talk
4:45p.m. Dinner (Have Individual Meetings with Coaching Staff)
6:00p.m. Team Building/O-Course
6:45p.m. Training Session II
7:45p.m. Closing Talk
8:00p.m. Camp Closing
Session 2
8:00a.m. Team Warm up/Run
8:30a.m. Understanding how to Dominate the ball
9:15a.m. Training Session 3
11:15a.m. Leadership/How to Achieve Success
12:00p.m. Lunch (Have Individual Meetings with Coaching Staff)
2:00p.m. Team Building 2
3:00p.m. Training Session 4
4:45p.m. Closing Talk
5:00p.m. Camp Closing
Overnight lodging is NOT provided for the Girls Leadership Soccer Academy Series
(You may contact the Holiday Inn Express, Lexington at 540-463-7351 for special rates.)
REGISTRATION DEADLINE: July 1st. A $30 late charge will be added for registrations received after the registration deadline. Refunds for cancellations are available, minus $25 administrative fee, up to 5 days before the camp start date.
This camp is open to any and all entrants (limited only by number, age, grade level and/or gender).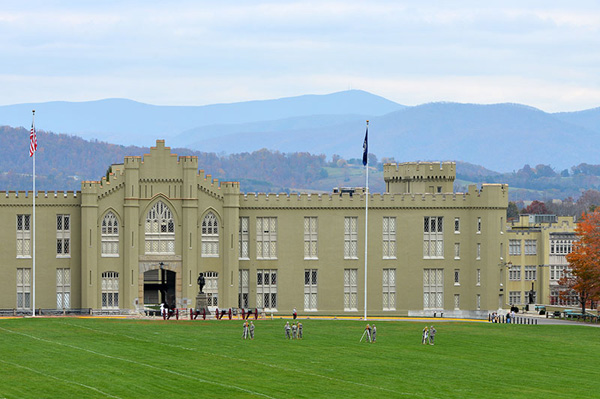 Camp will take place on the grounds of the Virginia Military Institute. VMI is located in historic Lexington, Virginia which is situated at the southern end of the Shenandoah Valley. Camp soccer training sessions are conducted on the soccer competition and practice fields on the VMI campus, home to the NCAA Division I VMI Keydets. Top notch soccer playing surfaces include bermuda grass competition and practice fields and a turf competition field for all playing conditions.
2018 Girls Leadership Soccer Academy Series
Gender: Female | Ages: 14 - 18
July 13, 2018 - July 14, 2018 | Lexington, Virginia
Fri, July 13, 2018 - Sat, July 14, 2018
401 N. Main
Lexington
,
Virginia
24450