2018 Summer Soccer Camps--(Session I, June 4-7) (Session II, July 9-12)

June 04, 2018 - July 12, 2018
The BRPA Summer Soccer Camp at VMI is for boys and girls ages 4 - 10 years and offers a fun and competitive environment for all players, from beginners interested in exploring soccer, to experienced players who want to enhance their playing ability and soccer skills. Players will enjoy a one-of-a kind experience as they receive hands on instruction from camp staff comprised of the current VMI coaches and team members, and will have access to the unique environment that the Virginia Military Institute has to offer. The BRPA Youth Soccer Camp seeks to encourage a love for soccer and develop the complete player for the modern game. Each day, players will have the opportunity to improve their individual soccer skills and gain a deeper understanding of the game, focusing on technique, tempo and necessary physical components.
Ages 4-5 (PreK) are eligible for Half Day option only
Ages 6-11 (Kindergarten and up) are eligible for Half Day or Full Day option
Sibling discount: 10% for each additional child
Team discount: 15% for team members of 10 or more (Club Team Contact must be entered at registration)
REGISTRATION DEADLINE
- Before May 14, 2018 (Half day: $175, Full day: $230)
- After May 14, 2018 (Half day: $190, Full day: $245)
Refunds for cancellations are available, minus a $30 administrative fee, up to seven (7) days before the start of camp.
WHAT TO BRING
Water bottle, soccer ball, shin guards, soccer shoes, athletic shoes for other activities, weather appropriate athletic attire, sack lunch (full day campers). We also recommend bringing an extra set of clothes as campers will be very active and will potentially get wet and/or dirty due to obstacle course/team building activities and hot weather water
activities.

This camp is open to any and all entrants (limited only by number, age, grade level and/or gender).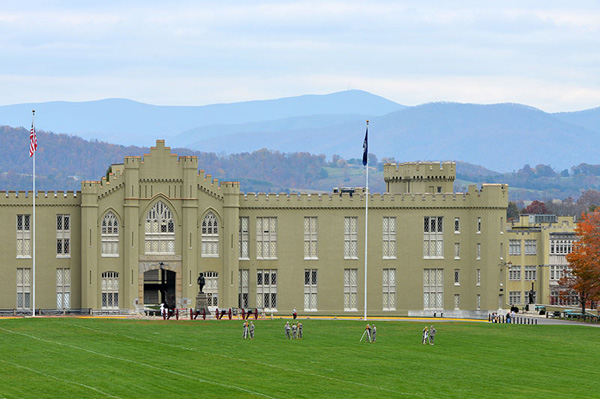 Camp activities will take place at the Virginia Military Institute athletic facilities, home to NCAA Division I Keydet sports at VMI. Top notch soccer playing surfaces include bermuda grass competition and practice fields and a turf competition field for all playing conditions.
2018 Summer Soccer Camps--(Session I, June 4-7) (Session II, July 9-12)
Gender: CoEd | Ages: 4 - 10
June 04, 2018 - July 12, 2018 | Lexington, Virginia
Mon, June 04, 2018 - Thu, July 12, 2018
309 Letcher Ave
Lexington
,
Virginia
24450